When DJ's great uncle passed away a few years ago, he seemingly left very little behind for people to remember him by.
However when sorting through his belongings we found a life undiscovered. There were all manner of creative outpourings, ranging from lovingly crafted poetry to photography and belongings that told the story of a man who had travelled the world in search of the great adventure. It was an emotional process for DJ cataloguing the assorted possessions, but the one thing that stood out amongst it all, was a near pristine Kodak Instamatic 100.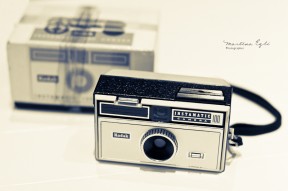 It now lives on our office shelf, 2 shots left on the roll of undeveloped film and every now and then I'll sneak a peek at it and remember to enjoy my own great adventure.
"The camera makes everyone a tourist in other people's reality, and eventually in one's own." Susan Sontag
Gallery