Written by: Martina Egli
I am frequently reminded why we Women are considered the fairer sex. For example, just recently I decided to spruce up the bedroom by cutting some fresh lavender tying it in a nice bow and leaving it on the dresser – giving the room much need ambiance.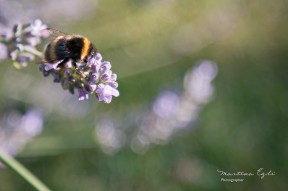 I explained this to my boyfriend… and he pulled a face. It was an expression I have seen many times before – complete bewilderment. I might as well have marched up to him and told him that I intended to "lay turf on the floor and plant an apple tree in the wardrobe" for all the sense it made to him.
"Sounds nice." he said as he returned to browsing the internet for highly important news about gadgets.
I did not let his ambivalence deter me however; if it were up to him we would live in a cave-like dwelling, a cave with internet access and a really nice flat – screen T.V, but a cave nonetheless. Basic human niceties, and by human I mean female, would be forgotten. Tidying up relegated in favour of "piles of things," take-aways replacing fresh fruit and vegetables. Air-Freshener instead of the smell of freshly cut flowers. Trust me, I don't hold it against him for a moment, we're just programmed differently.
So I cut and placed my Lavender with pride… I am woman.
"Flowers are the sweetest things God ever made and forgot to put a soul into." Henry Ward Beecher"
Gallery